Contact
Do you require a quote, additional information or references?
Please get in touch with us:

Contact
Amanda Habbershaw
Main training areas:
English
Scientific English
Intercultural competence
Translation and proofreading
Friesenstrasse 22
D - 76829 Landau

Contact
Véronique Rigaud-Költzsch
Main training areas:
Languages: French and German
Intercultural competence
Creation of French-language teaching and examination materials
Friedrichstrasse 122
D - 68199 Mannheim

Contact
Orlando Schenk
Main training areas:
Voice training
Speech training
Rhetoric and Argumentation
Communication psychology
Am Mäuerle 7
D - 76891 Nothweiler
After your inquiry has been answered, your personal data will be deleted immediately, providing there is no legal obligation to store it. The data will not be used for any other purposes or passed on to third parties. We would like to point out that transmission via the Internet (e.g. email communication) is not entirely secure. It is therefore impossible to fully protect data sent via the Internet from being accessed by third parties. Personal data will not be saved, processed or analysed without the written consent of the person concerned.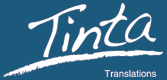 LEGAL INFOMATION
COPYRIGHT © TINTA-TRAINING 2014 -2022
PHOTOS :
OLAF LAHR
WEBSITE BY :
bleu

anthracite